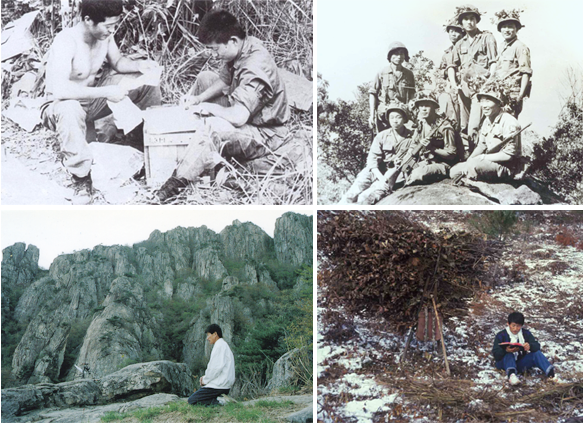 From 1966 to 1969, I served in the White Horse Regiment [in the Korean Army], and was sent to Vietnam, [as South Korea was allied with the United States], where I experienced the atrocities of war. The cruelty of war made me think deeply about the fundamental issue of human beings, that is, about life and death. In [the midst of] such desperate battles where I had to face death, I had the Bible at hand and read it again and again. Jesus made me realize that life is truly valuable and it cannot be traded even with the entire world. I realized deep down to my bones how valuable and precious life is, and as I looked up to the skies I prayed passionately, 'If I am allowed to go back to my country alive without dying here, I will live preaching the gospel until the end of my life.'
Immediately after I came back to Korea after my first tour of duty, I was sent back to Vietnam right away. Until I finally came back to Korea the second time, I went through hundreds of ambush operations, mountain search operations, and numerous battles. There were dozens of dangerous moments in which I came very close to death.
Through participating in the Vietnam War, I realized that we could not achieve peace with guns and knives, but we had to throw them away in order to achieve it. Jesus was always next to me and inspired me with realizations. He taught me about loving the enemy and said, "Although you are enemies to each other, you are not enemies to Me." Right after I came back from Vietnam, alive, I farmed with my parents, and went to Daedoon mountain, Darigol cave, and Gamram mountain, and other places in order to pray. Through prayer and a life of training, the Lord unraveled the deep secrets of the Bible in a new way.